United We Pledge was organized in 2021 as a nonpartisan, non-denominational, nonprofit organization with a commitment to support and sustain freedom, family, and faith in the United States.
Each of these three traditional American values was carefully considered and thoughtfully incorporated into our mission statement with purpose and meaning by the United We Pledge Board of Directors and Founder.
United We Pledge chose the principles of freedom, family, and faith with a confluent belief that these principles were central to the founding of the United States of America and to its continued success as an independent Republic. Their hope is to preserve these principles for future generations by establishing an educational platform and Liberty Village that contains accurate history and seeks to enhance unity, inspiration, and patriotism; instilling a love for our deeply rooted American heritage and values within our youth and citizens.
Freedom
United We Pledge supports and peacefully defends the principle of freedom and sustains the ideal that liberty was and is an integral part of the identity of this nation and its forming.
Freedom in the United States creates the ability for the people to exercise their God-given right of agency and choice to act for themselves independent from government institutions; granting themselves the right and power to dictate their own lives within the laws of the land while also demanding the responsibility to actively uphold and participate in our systems of government.
Family
Families are essential to the prosperity of this nation and the happiness of its people. Strong and unified families are the backbone of our dynamic culture and fruitful economy.
Families have the responsibility of properly educating, instilling honorable and moral values, encouraging love, respect, and inclusion of others, and assisting their family members to be law-abiding citizens.
We invite all families, regardless of their composition and unique circumstances, to help unify our nation by teaching their children and family members about the founding principles of this country and encouraging them to work in harmony with others to do the same.
Faith
The ability to worship according to the dictates of one's conscience is a fundamental right that is to be enjoyed by all persons. We invite all people to exercise their faith in the manner that they feel inclined and believe that everyone should respect the ability and opportunity of all others to do the same in a peaceful, respectful, and encouraging way.
United We Pledge seeks to acknowledge factual events from American history that identify the blessings, assistance, and divine providence of a Supreme Being in the establishment of this nation. United We Pledge is actively engaged in assisting in the creation of the Bible of American History project led by Eric Dowdle and Tim Ballard to reveal the presence of God in our nation's founding.
United We Pledge also sustains the Founder's belief in the absence of a state-sponsored religion, and although we believe the nation's principles are rooted in the belief in God and the inalienable rights given by Him, the government should not be tied to or ruled by any specific religious organization.
The Name
United We Pledge was a name that was given much consideration and chosen after seeking counsel from many different sources. Each component of the name has a rich meaning and is a culmination of our core purpose.
Our main hope is that "Unity" is embraced by all Americans, regardless of their many unique differences. Everyone has gifts and strengths that they can contribute. We all have weaknesses and can gain support from others.
The word "United" in our title lends itself to helping us remember that we belong to the United States of America and that we are a better nation if we can harness our efforts and pull together. We are not in competition with other organizations but hope to link all our voices and efforts together in positive, loving, and meaningful ways.
If like-minded organizations were seen as small streams, we hope to bring unity to these groups, so that we become a raging river with the ability to make significant and positive differences in the destiny of our nation.
"We" identifies that our effort is to be a combination of everyone. Our foundation is not just about us but is about a larger public. "We" means everyone, and we hope to bring all patriotic voices together in harmony and synergy.
The word "Pledge" is one of the most important parts of our name. We firmly believe that commitment is core to our mission. We have a duty and responsibility that needs to be acted upon, not just talked about. Pledging has to do with an inner commitment and a covenant promise to follow through.
We embrace the pledge of allegiance and invite all persons to give the strongest consideration to keeping individual promises, as well as making solemn pledges to maintain the obligations expressed by those who helped establish this nation and in the foundation documents that support our Republic – The Declaration of Independence, The Constitution of the United States, and the Bill of Rights.
Why Choose United We Pledge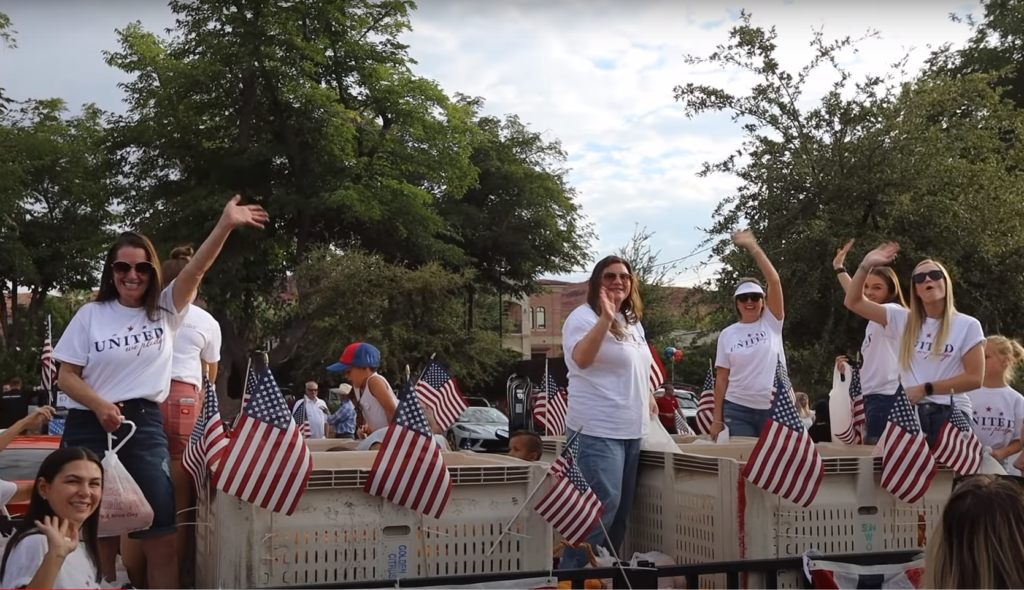 Any organization that is meaningful must provide solutions, support, and assistance for its members and the general community. So, one must first consider the needs, weaknesses, or challenges that exist in the community that actually need to be solved.
The core problems that we seek to address are (1) the fracture and discord that exists in the United States of America and that seems to be exacerbated by some who stir up and focus on those differences in a way that creates contention; (2) the lack of complete and accurate content regarding history and story of America and its' people.
We believe that the complete story of this nation needs to include the inclusion of the role of divine providence in our history and a willingness to acknowledge our flaws as well as our victories. Accurate history – both the good and the bad – help us remember our past so that we can progress effectively and successfully as we navigate the future.
We do not ever want the rising generation to forget our history; (3) the lack of educational focus and emphasis on systematic politics and the inspired Republic that was instituted by our founding fathers as the United States of America was established. We advocate civics training, history education, and dialogue and discussion regarding the benefits of this nation and our responsibility to utilize our blessings in a way to serve, love, and assist our fellowmen around the world.
We believe that this education will be most impactful as it is centered on a home-based curriculum that allows families to engage in meaningful and results-based discussions on a regular basis in their homes and neighborhoods.
Our Curriculum
It is the purpose of United We Pledge (UWP) Academy to create an online, home-based, family-centered curriculum where a new lesson will be released weekly. Each lesson will be saved on our website for viewers to access at their leisure.
Our target audience will be middle school-aged youth (ages 12-15). With the hope that all family members will be engaged and included in the discussions. We believe our curriculum will help unlock the potential of youth and inspire them to take responsibility for becoming stellar citizens of the United States of America and capable leaders to help maintain liberty in the 21st century.
Education is empowering and is a natural confidence provider. Each lesson is based on principles that are timeless. For example, our first lesson: We Mutually Pledge discusses how our founding fathers pledge to each other: "We Mutually Pledge To Each Other Our Lives, Our Fortunes, And Our Sacred Honor." We discuss how the importance of keeping promises even in hard times.
Each lesson will include a call to action, where we put what was taught into action. Families can learn from and implement these principles for the betterment of our lives today.
UWP Academy believes that the primary protectors of each generation are its parents. The responsibility of providing for the education of youth rests squarely on the shoulders of mothers and fathers. Parents can create a home-centered environment where healthy dialogue, discussion, and historical recitations can fill the hearts and minds of their children in a way that really makes a difference.
We hope to assist parents in providing a home-based curriculum that is fun for the entire family!
In George Washington's 8th Annual Message on December 7, 1796, he said: "A primary object should be the education of our youth in the science of government. In a republic, what species of knowledge can be equally important? And what duty is more pressing than communicating it to those who are to be the future guardians of the liberties of the country?" We at UWP Academy completely agree with General Washington.
UWP Academy is a collection of lessons garnered from contributors from across the United States. The UWP team helps train and assist all contributors in order to insure that each lesson meets our stringent standard of excellence and historical accuracy.
Anyone who feels called to participate in submitting a lesson is welcomed and encouraged to do so!  All information and a lesson template can be found at unitedwepledge.org.  Any questions or concerns please contact [email protected].